Leather
Leather ~ nothing provides greater strength, durability, or "classiness" to a basket than leather accents. Years ago I discovered that a whole tanned cowhide could be purchased, cut into uniform strips, punched & riveted. The leather is then incorporated into a woven basket as bushel basket-type handles, tote basket strapping, (handle loop woven through the base), over-the-shoulder purse straps, buckled straps for bicycle baskets, or even used for actual weavers.
Attaching leather strapping handles to a tote basket is quite easy. The ends of each handle come riveted. You slide the end of the handle on to the last weaver (row) of the basket, then clip & tuck the stakes & rim as normal. After a basket is completely woven, the whole thing can then be dipped in an oil-based woodworking stain ~ leather & all. The leather will instantly soak up the stain and dry to a shade darker than the actual basket reed … beautiful!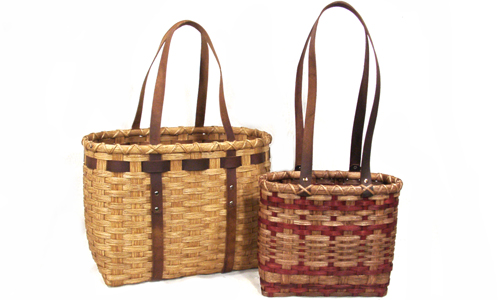 Leather Handled Tote Basket Little Northwoods Tote Basket
Many of the Tote Baskets found here on our website use leather strapping and/or weavers. Several of the Service Baskets, including our Bicycle Basket, also have leather handles. If you would like to add any leather to your weaving creations, feel free to contact me via email for ordering.