A Little Bit of Background
"I have loved baskets ever since I received my first wooden-lidded picnic basket as a wedding shower gift 45 years ago."
---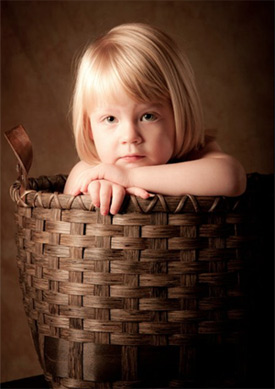 My Granddaughter - Lauren
Our home has since been decorated with baskets; we carried our babies' necessities in "diaper baskets"; I have hidden the Scotch, masking, and duct tapes in market baskets, (so it's there when needed); our kitchen is filled with bread baskets, muffin baskets, napkin and paper plate baskets, utensil baskets, and casserole baskets; the laundry is hauled in wash-day baskets; our books are held in magazine or carry-all baskets; library books are transported to and fro in leather handled tote baskets; etc., etc., etc.,

In other words, I am never found without a basket in hand!
Although my love for baskets has covered the last three decades, I was not actually "hands on" involved until the summer of 1991 when I was introduced to basket weaving. At the time, our family lived and worked at a Christian camp in northern Wisconsin, and a lady from Milwaukee was attending a week-long family camp. She was an avid basket maker, and so she offered a class out on the deck of the dining hall. Being on a tight budget with a family of seven, I did not even have the $10 material fee needed to take the class. But a good friend paid my fee, and we spent a beautiful afternoon weaving our first baskets. I was immediately hooked! Up to that point in life, I had enjoyed many other types of crafts, but now, basket weaving quickly moved into first place.
"Since that memorable summer afternoon 30+ years ago, we have woven over 15,000 baskets, taught hundreds of classes, and designed a countless number of patterns."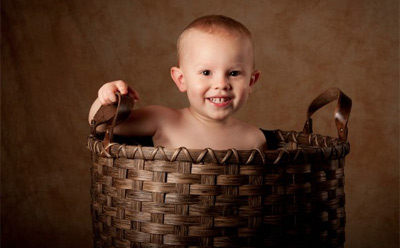 My Grandson - Jack
My daughter, Danielle, is currently teaching basketry for adult community education in four different public school districts. It is always such a joy to share in a new student's delight with the completion of their first basket weaving project.
Dani & I create and weave all of our baskets in our own home shop. We have been blessed with a restored 1916 country farmhouse on a 20-acre hobby farm located in eastern Minnesota, and have had nine children, three of which are still at home. (The others keep coming back home with more!) We have a large vegetable garden, a dozen apple trees, a long row of raspberries, and lots of flowers in the summer. We raise chickens and turkeys, keep honeybees, and had three horses, an old dog and a varying number of farm cats. There are bikes in the dirt driveway, a swing set in the back yard, and two small ponds out in the pasture. All in all, it is a great place to raise a family and — WEAVE BASKETS!